Work is starting on the instrument cluster, looks like a tangled mess just lying there. The little silver box with the six holes in it on the left side of the metal support is one of the air sensors for the automatic heat.
First to clean up the speedometer lens and housing…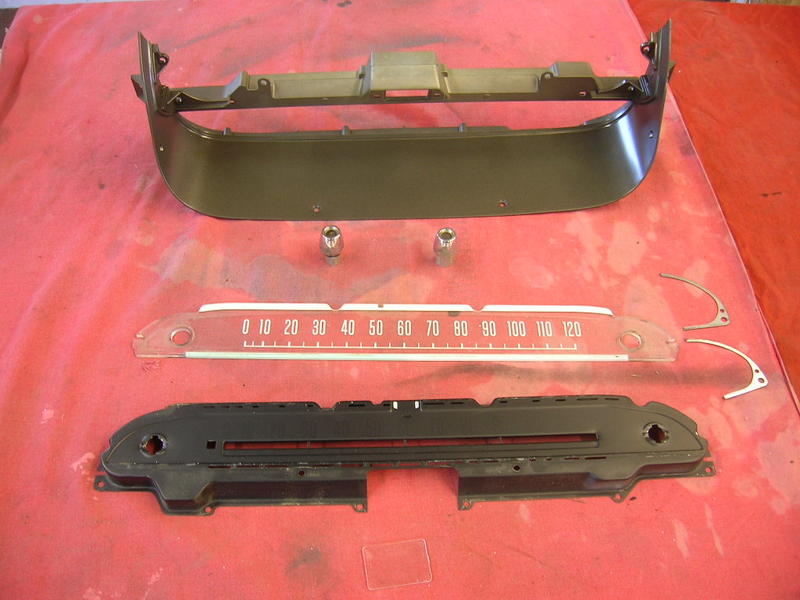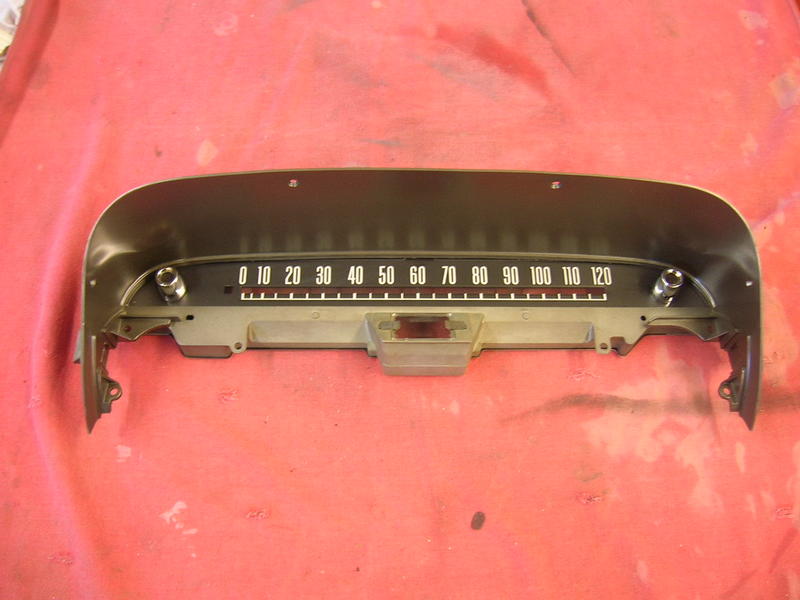 A common problem with the 59 dash cluster is that the black paint on the inside of the gauge bezels cracks and flakes off off over the years.  Some people scrape off the paint and leave just the chrome plating which isn't correct and doesn't look quite right.  In these pictures the dash is being prepared for some fresh black paint for the inside of the gauge bezels….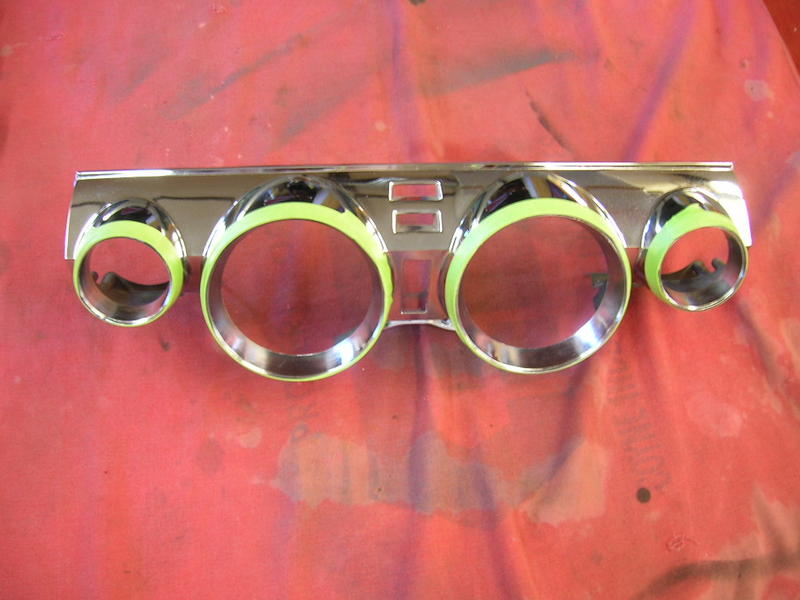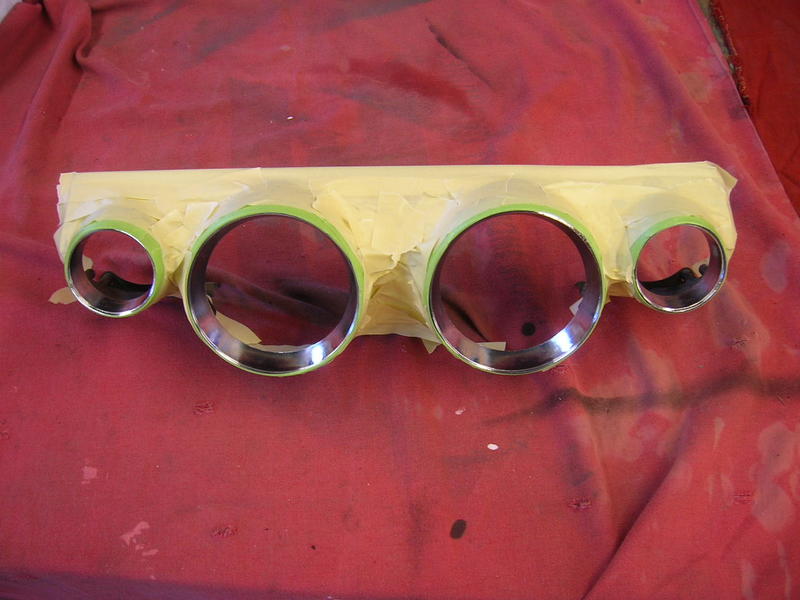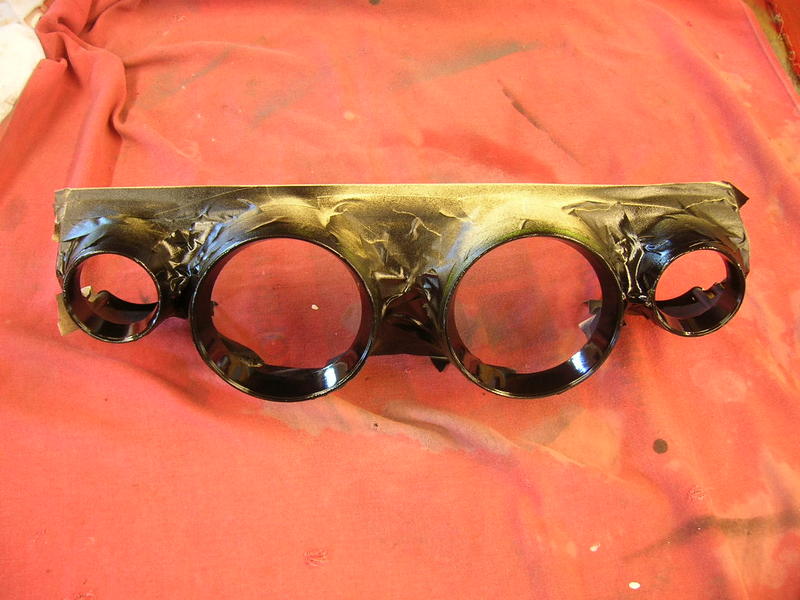 …………………voila'…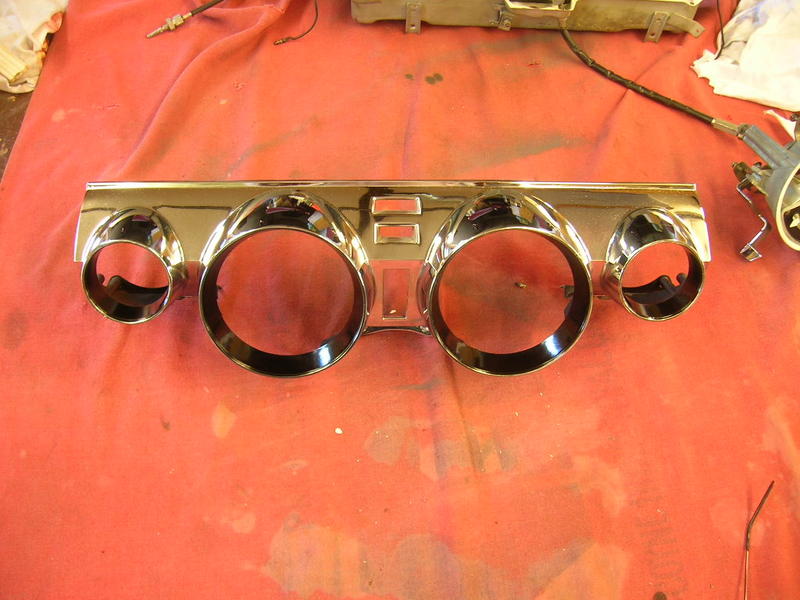 Moving right along to clean 50 years of dust and dirt from the gauges.  Notice that we have the replacement temperature gauge.
Here's an interesting tidbit. All the gauge pointers on a 59 Buick are reddish orange right?  Well, not exactly…  all the pointers are reddish orange except for the cars with the optional automatic heat. I had thought the pointers on my automatic heat gauge had faded white from the sun and needed to be repainted, but when Greg took it apart he thought something looked fishy. He went out to the parts car (which also has automatic heat) and sure enough those pointer were white also. So for all you Concours judges out there…whereas all the gauges should have white lettering on the lens with reddish orange pointers beneath, the automatic heat gauge should have reddish oange lettering on the lens with white pointers beneath. You learn something new every day.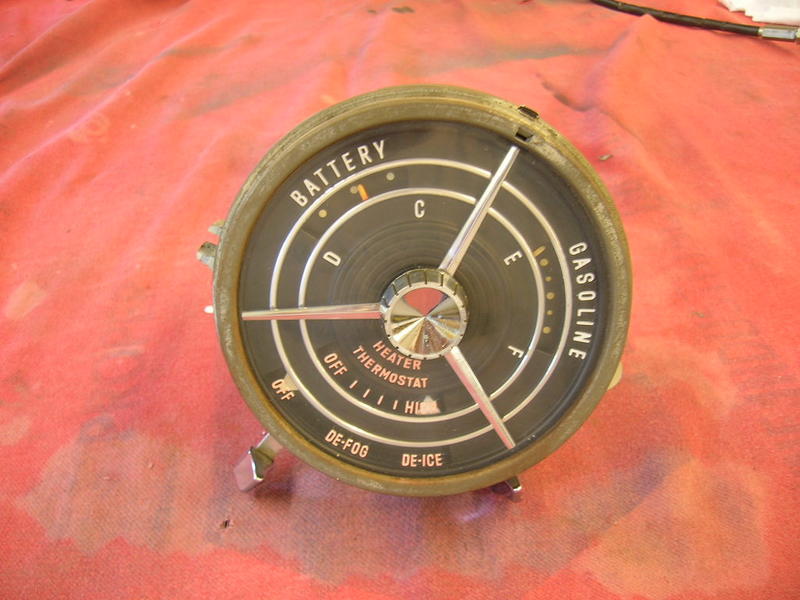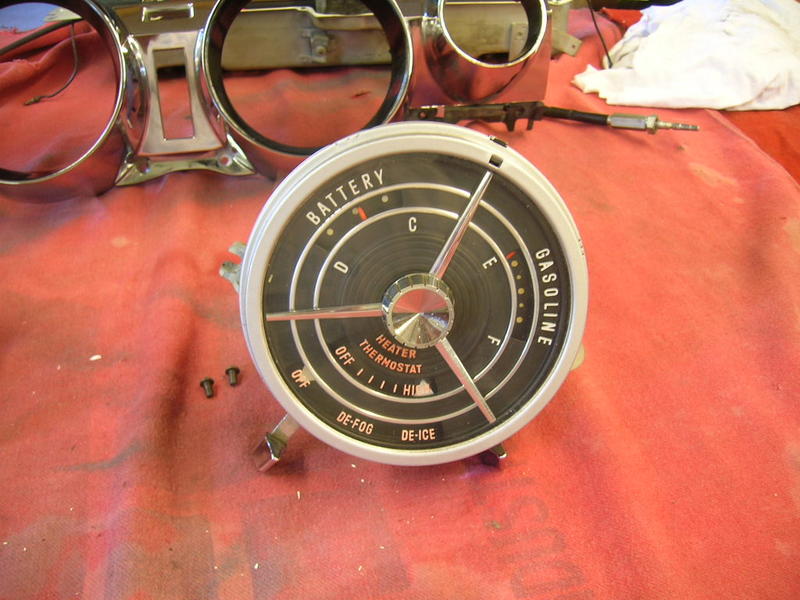 Now to clean and lube the speedometer.  For those that have never seen one, a cool feature of the 59 Buick is the speedometer.  Speed is indicated by what appears to be a red line that moves across the dash as speed increases.  The below pics reveal the secret as to how this is accomplished.  A black and red drum behind the dash slowly spins as speed is increased giving the illusion of the red line line.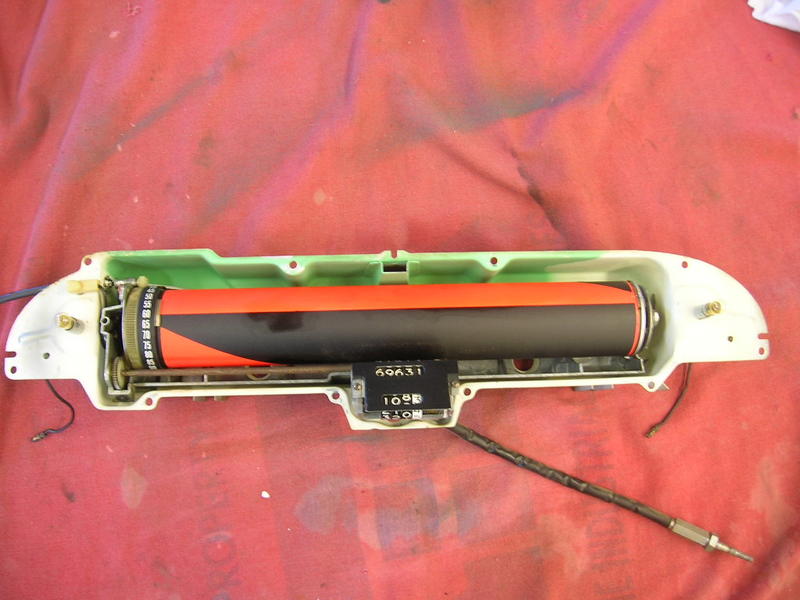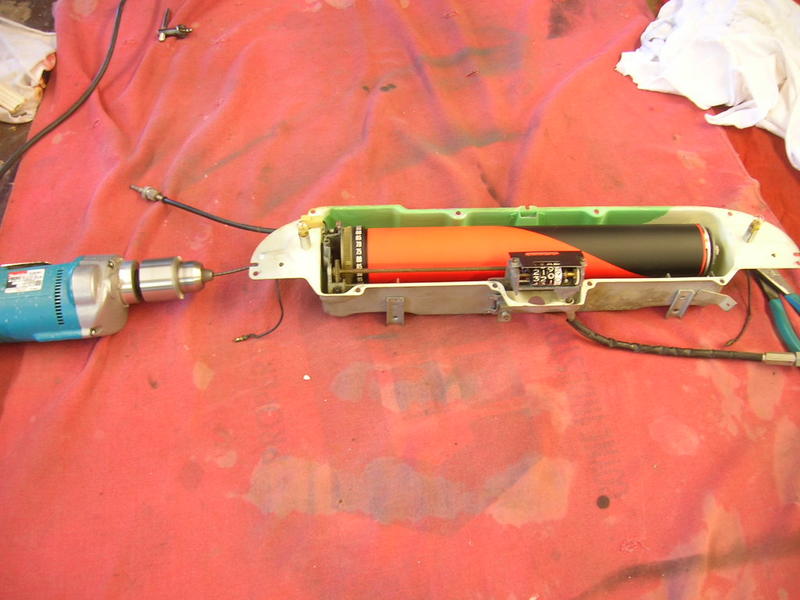 And finally………..drum roll please……….Looks Positively Dashing…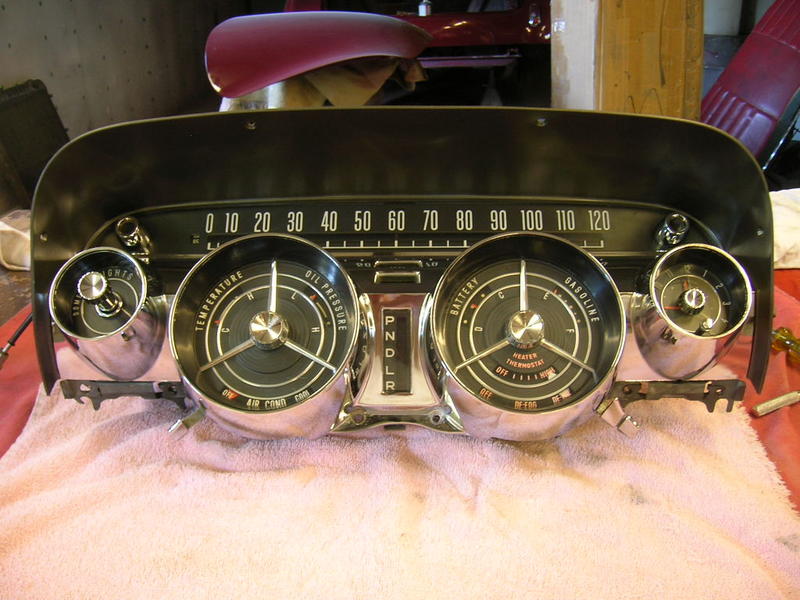 Amazing what a little spit shine can do for a tired old dash!
And now to heave this thing back into the car…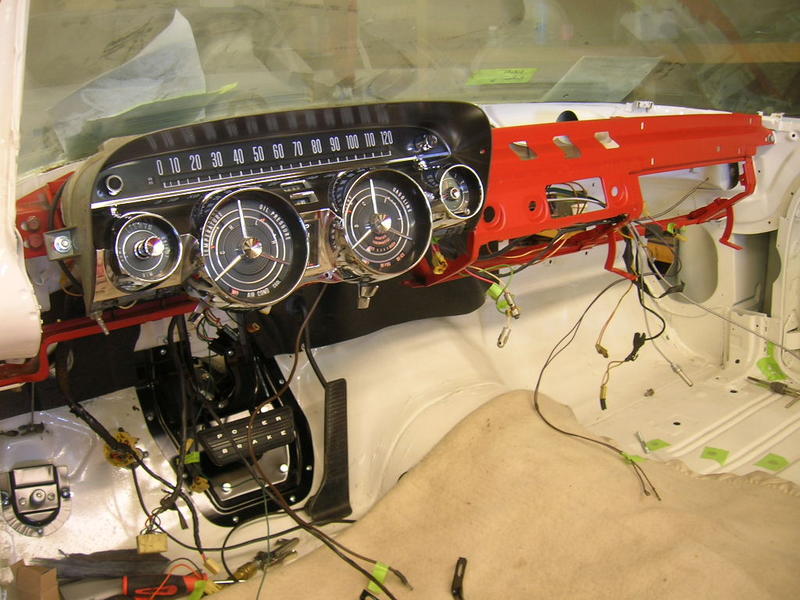 _________________
~ Tom Sidoti
1959 Buick Electra 225 Convertible