Even though its not my car's turn just yet…Greg has been able to do a bit of work nonetheless.
First off, as is customary in his shop, he's given my car a name…
drum roll please…
Snow White!
Reassembly is beginning, but we're talking baby steps here. No cracks about the inside car storage…hey its a small shop and Greg needs to keep the stuff somewhere until Joe's car is out of the way!
We'll start with rough mounting the doors and buffing out the paint…
Now lets get the trunk lid installed…
Next up is installing some polished stainless…
How 'bout we add some side stainless…
The first batch of chrome is beginning to come back from the plater! Every piece of chrome is being done by Librandi's Plating (http://www.carchrome.com/)
Check out these taillight bezels…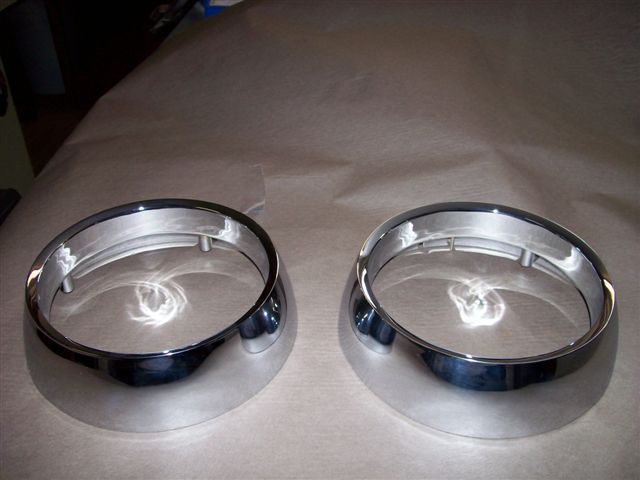 and what about this trunk emblem, and various parts from the back-up light housings, front door panels, and interior light housings…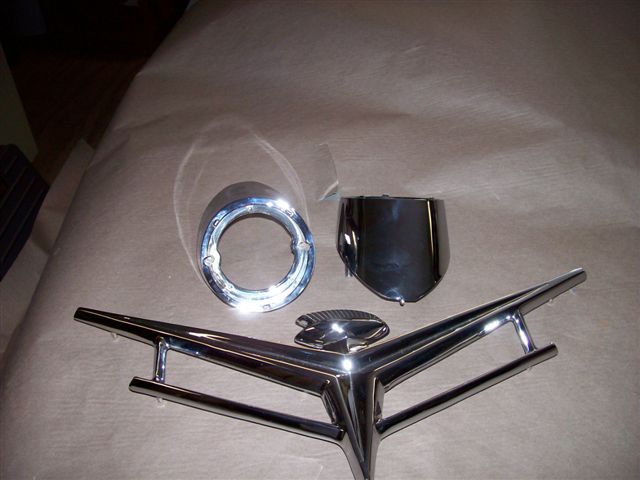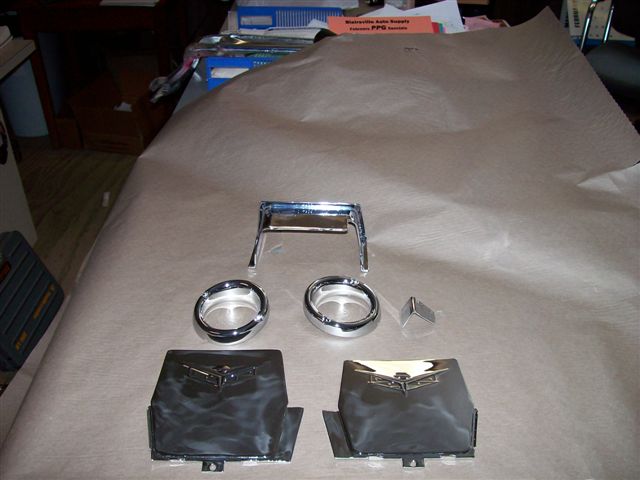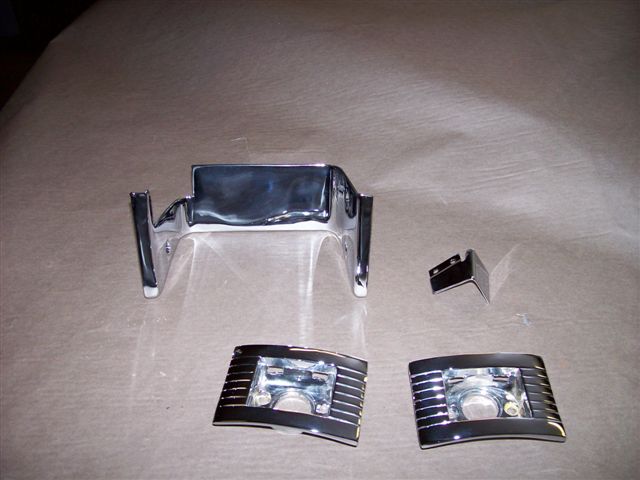 These stainless rear valance trim pieces go right above the bumper on either side of the license plate and only came on the Electra 225 series…they are next to impossible to find!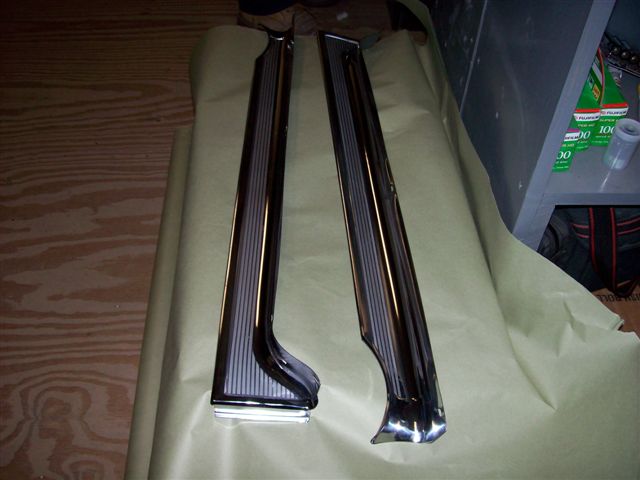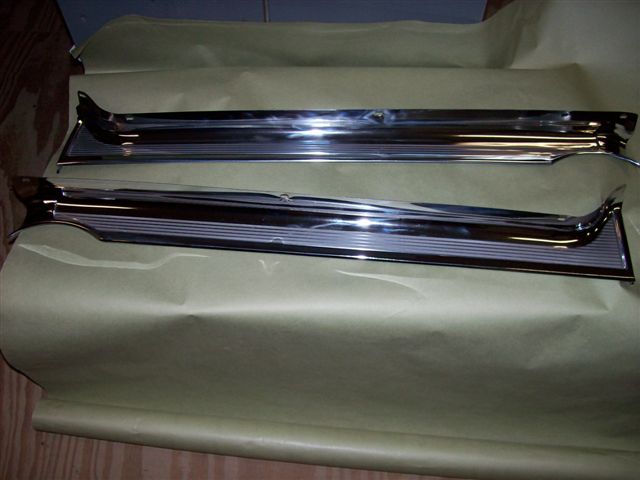 Over to the back we need to get on the rear valence stainless, license plate assembly and and trunk emblem…
I know, I know… this license plate pull handle is from the LeSabre models and is incorrect for a 225 Conv't.  I finally found the correct full frame license plate pull but it still needs to be straightened and polished…
Now that's a trunk emblem…
And finally the taillight bezels, a shiny new bumper, a properly painted rear valence panel (not the incorrect chrome version that was  on the car) and back up light assemblies…
Hey…at least the back-end is starting to look like something!
I also took the plunge and ordered almost all of my rubber parts.  After searching everywhere I got the best quality, price and absolute best service from Mike and Elizabeth Gadaleto owners of Cadillac Parts Limited (http://www.cadillacpartsltd.com/).  I would highly recommend giving them a call before buying any new rubber…chances are you'll find their prices and service the best anywhere.  Their number is 856-753-6788.
HERE'S THE LIST OF WHAT I PURCHASED:
1 pair molded door weatherseals
1 pair auxiliary door (j seals)
1 set roof rail weatherseals (7 pc set included header seal)
1 pair pillar post weatherseals
1 pair quarter window leading edge weatherseals
2 pairs of outer beltline scraper seals (fuzzies)
2 pairs of inner beltline scraper seals (fuzzies)
1 pair of vent window weatherseals
1 pair of division post for the vent window weatherseals
1 trunk weatherseal
12 rear compartment body plug
1 antenna lead grommet
1 shift lever insulator bushing
1 rear bumper to body weather-strip
1 radiator body mounting pad
1 pair lower support arm bumper
1 pair rear coil spring insulators
1 pair front coil spring insulators
1 fuel filler door bumper
1 pair adjustable hood bumper
4 hood to fender bumpers
1 hood to cowl weatherseal
1 windshield gasket
1 windshield wipermotor seal
1 pair flexible window run channel
1 pair rigid run channel
2 lower window stop cushion
1 pair side window glass bumper
2 door lock cylinder gaskets
1 set door handle gaskets (enough for two handles)
1 pair door bottom hole drain weatherseal
2 door bumpers
2 door bumpers square type
1 pair lock pillar filler
1 trunk lock cylinder gasket
1 glove box grommet
_________________
~ Tom Sidoti
1959 Buick Electra 225 Convertible