Radios were optional on all models of the 1959 Buick with three options available.  Buyers had a choice of Sonomatic Push Button radio, Wonder Bar radio with foot switch, and the Transistor Portable radio.  All 3 radios featured manual and push button tuning.  Other options include rear speaker and power antenna.
As can be seen from the photo, this car was ordered with the Wonder Bar Radio, Power Antenna and Rear Speaker.  The below photo (taken before the restoration) shows the radio and switches for the power antenna (left of the courtesy light) and rear speaker (right of the courtesy light).  A close look will reveal the "Wonder Bar" located just above the radio dial.  Pressing the wonderbar engaged a signal seeking circuit which activated a small electric motor that moved the pointer to the next AM signal detected.  The radio also featured a sensitivity dial beneath the volume knob that allowed the user to vary the strength of the signal needed to stop at any particular station.  The Wonder Bar radio also included a special foot switch located on the toe board to the left of the brake pedal.  Depressing this switch allowed the user to engage the signal seeking circuit to change radio stations (Click on Picture to Enlarge).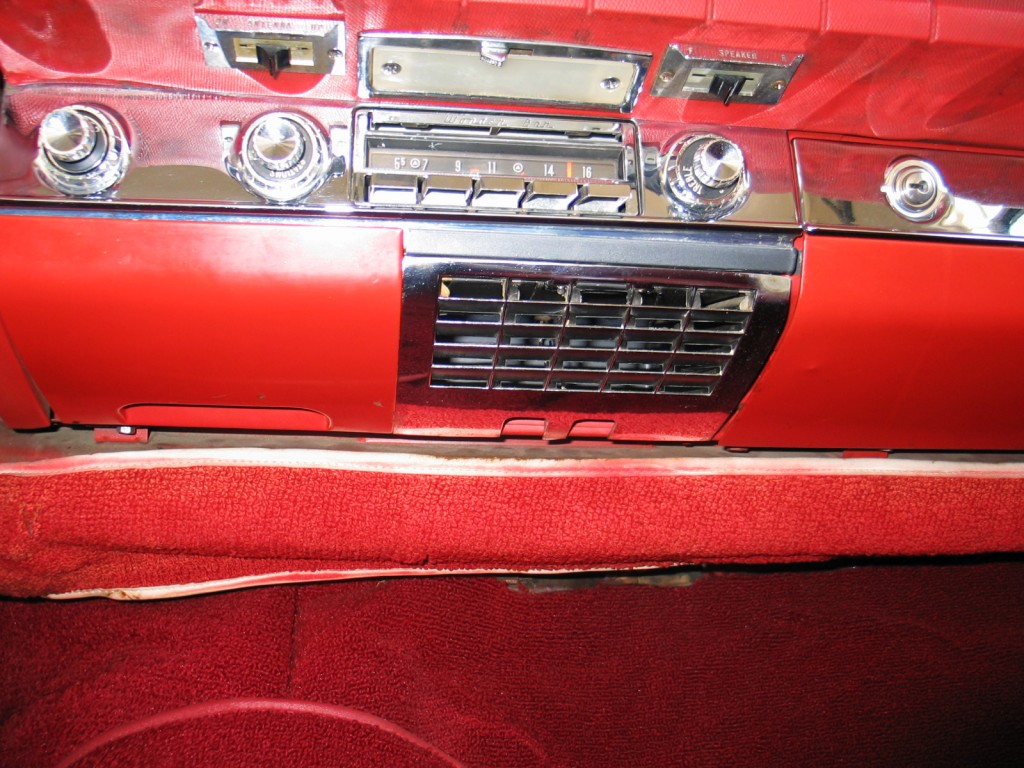 Below are descriptions of the different radio options from the 1959 Buick Facts Book (Click on Picture to Enlarge).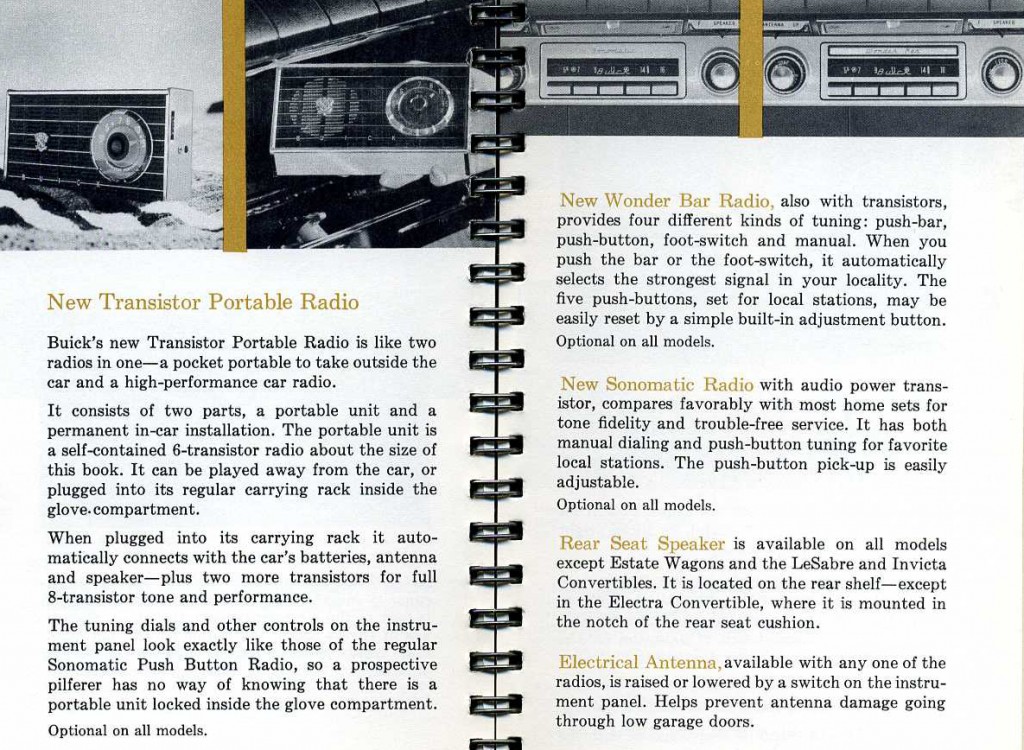 It was not possible to order both the Wonder Bar and the Transistor Portable together.  Whereas the Wonder Bar radio used vacuum tube electronics located directly in the dash mounted radio, the transistor electronics for both the dash mounted radio and the portable radio were housed in the Transistor Portable radio located in the glove box.  Although the dash mounted radio for the Transistor Portable option looked identical to the Sonomatic, and it played through the car speakers, in reality the dash unit was a dummy with it's volume and station controls remotely controlling the electronics from the portable.  This means that the dash radio could not operate without the portable being plugged into its correct location in the glove box.  While the Sonomatic and the Wonder Bar radios would take a few seconds for the tubes to warm up before playing,  both the dash mounted unit and the portable unit for the Transistor Portable option would begin playing instantly because there were no tubes, just the transistors in the portable unit.
Below is a 1959 advertisement for the Transistor Portable radios that were installed in Buick, Oldsmobile and Pontiac vehicles in 1959 (Click on Picture to Enlarge).