This site contains detailed step-by-step photos of a concours quality restoration of a 1959 Buick Electra 225 Convertible. The below pics show the car before starting.  Although complete, the pictures hide the fact that the paint is in in very poor condition, much of the stainless steel moldings and chrome are damaged or pitted, and the original leather interior has been replaced with incorrect vinyl.
Buick introduced all new model names for 1959 including LeSabre, Invicta, Electra and Electra 225.  The flagship Electra 225 nameplate came on three models, 4 door hardtop, 4 door Riviera hardtop and 2 door convertible.  Although the "225" was meant to represent the length of the car in inches, only the 4 door cars were a true 225 inches long.   The Electra 225 Convertible was based on the regular Electra 2 door hardtop and shares its body dimensions which stretched only to 220.6 inches.  Unique to the Electra 225 Convertible were standard leather bench seats and optional leather 1st year bucket seats (neither leather nor bucket seats were offered on any other 1959 Buick model).
Of the 285,089 Buicks produced in 1959, only 5,493 were Electra 225 Convertibles (less than 2%).  Estimates suggest that less than 200 of these cars survive, and of these, no more than a handful that were factory equipped with optional bucket seats and air conditioning.
Options on this particular car include the ultra rare bucket seats, air conditioning, automatic heat, Wonder Bar radio with foot switch, rear speaker, power antenna, and full EZEye (tinted) glass.
I plan to drive the car regularly after the restoration so I opted for an extensive frame-on restoration.  The shop doing the work is located in PA and a friend who also owns a 59 Electra 225 Convertible had a restoration ongoing at this same shop. 
Below is a page from the actual 1959 Buick Facts Book that was distributed to Dealers describing the Electra 225 Convertible. (Click on Picture to Enlarge)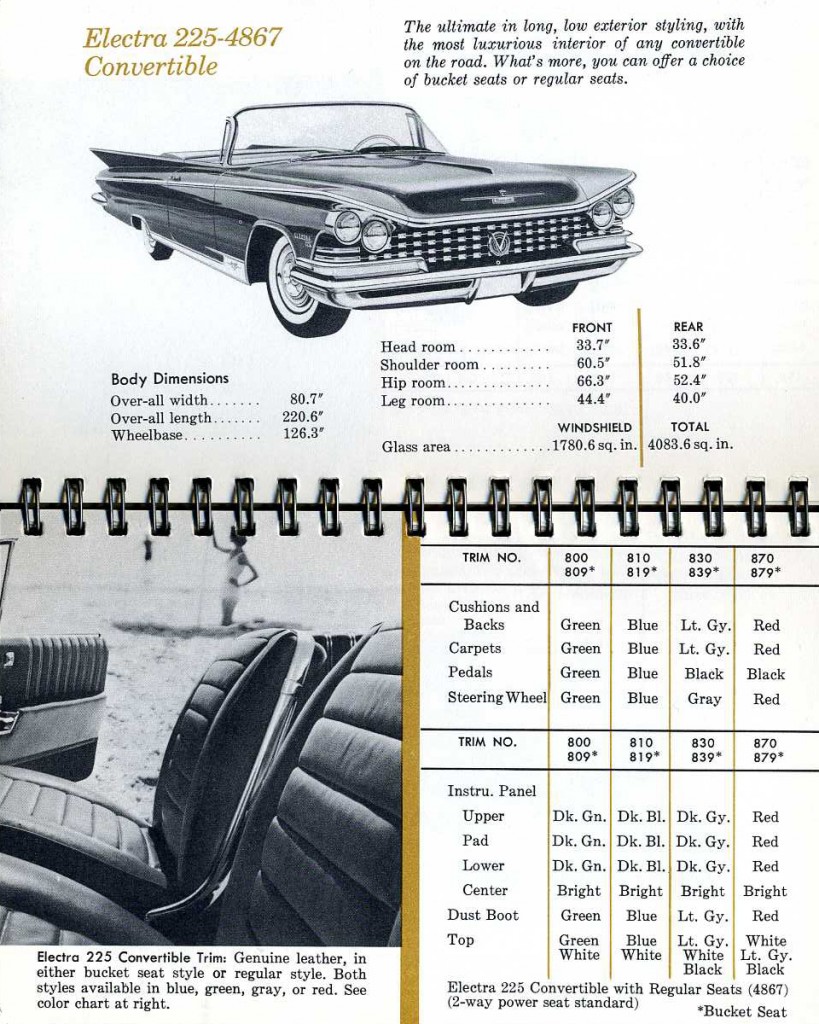 ________________
~ Tom Sidoti
1959 Buick Electra 225 Convertible